Many might not know that my brother (now a priest) and I are big Carolina Panther fans.  We grew up in Spartanburg, SC, the training camp of the Panthers, and have never missed watching a game.  So I figured why not make a post, being that it is the Pro Bowl today, on the first annual Sensus Fidelium All-Catholic NFL squad.
Owner:
With any team you must have an owner and this years S.F. Peter Award for best owner goes to the Steeler's owner, Dan Roone.  He's a daily Mass goer and it is said that "if you want to see Mr. Roone then go to daily Mass."  That is a great line to hear others say about you.
Vice President of football operations:
Tom Coughlin for the Jacksonville Jaguars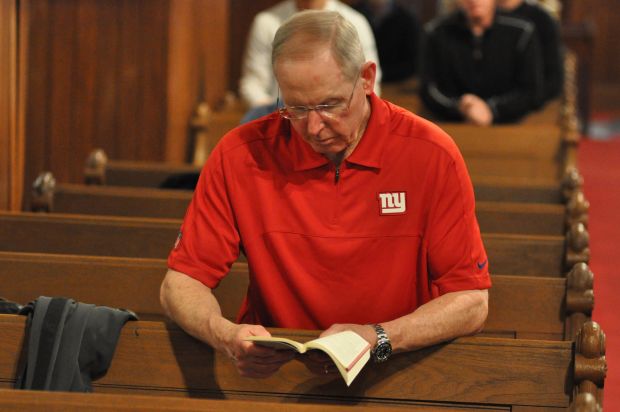 Head Coaches:
We have a couple head coaches out there
1) Mike Vrabel of the Tennessee Titans.  Coach Vrabel also gives lectures at the Catholic Business League events.
2) John Harbaugh of the Baltimore Ravens.  I know his brother, and coach of the Michigan Wolverines Jim Harbaugh, goes to Peru (the same mission trip the FSSP does) to help those in that area.  I assume John may do that too but I am not sure.  If John is reading this my brother is the priest at St Alphonsus' Shrine in downtown Baltimore.
3) Dan Quinn of the hated Atlanta Falcons.  Okay, okay, maybe the Falcons are not hated by most of the known world but like I said we are Panther fans.  I big rivalry exists between Carolina and Atlanta 🙂
Assistant Coaches:
So the New England Patriots are in the Super Bowl so we will start with their coaches. More on their story here
1) Special Teams coach Joe Judge
2) Defensive Line coach Brendan Daly
3) Wide Receivers' coach Chad O'Shea
4) Mark Duffner, the Defensive Coordinator for the (other hated team) Tampa Bay Buccaneers. He apparently wanted to be pope as a young man. You can hear an interview on his story here
5) Ben Steele, was the Tight Ends coach for Tampa Bay in 2018.  You can read what he has to say here
6) Pat Shurmurm now the New York Giants Head Coach.  You can read a story here on him
7) Eric Sutulovich, Assistant Special Teams Coach, Atlanta Falcons.  Sure he was let go in Feb 2018 but I'm keeping him in the list.
8) Joe Lombardi, the Quarterbacks Coach with the really hated New Orleans Saints.  Sorry about that blown call.  I would have been upset if that happened to my Panthers.  Hey when is Drew retiring?  Getting tired of him beating us.  Joe is Vince Lombardi's grandson & you can read more on Joe here & here is a great article on his grandpa, Vince and how Catholicism made the greatest Football coach ever.
9) Jack Del Rio, who may become the next Defensive Coordinator with the Cincinnati Bengals.
10) Mike Shula, now the Offensive Coordinator & QB Coach with the NY Giants.  I heard, while he was the Panther's OC, that he prayed the office and we saw him in the confessional line in Spartanburg often.  He was apparently on EWTN's Life on the Rock back in 2004 but I could not find the video.

PLAYERS
Offense
Quarterback:
1) Philip Rivers.  The former NC State Wolfpack made news this year with the secular sports talk radio folks when he said how many kids he had.  They were all amazed, sadly.  Here he is doing Life on the Rock on EWTN
2) Kellen Clemens.  Recently retired & finished with the San Diego Chargers backing up Philip Rivers.  In the interview here Kellen speaks of the two of them saying rosaries together, going to mass together (even going to traditional Masses) and growing in the faith.
3) Matt Ryan, of the (did I mention hated before?) Atlanta Falcons.  They had a disappointing season as did Carolina.  Here's hoping to a better 2019 for you but not better than Cam, of course. Hopefully Matt can check out St Francis de Sales, FSSP parish in Mableton
4) Tom Brady.  Many do not know he is one but, in his words, not exactly a good one.  Here's a write up on that here.  Say some Ave's for him (and all of course).
5) Jared Goff of the LA Rams looks like he could be but I'm going off a hunch from going to Catholic school.
Running Backs:
1) Giovani Bernard of the Cincinnati Bengals.  He went to St Thomas Aquinas in Florida and here is the Bengal's former chaplain speaking on things
2) Christian McCaffrey of the greatest team ever, the Carolina Panthers.  Ok I may be exaggerating.  The guy had a phenomenal record breaking year for the cats.  I'll post his 2018 highlights below.
Offensive Line:
1) Ryan Kalil just retired from the NFL this season after 12 years… all with the beloved Carolina Panthers.  The best center in the game.  Keep Pounding brother!  Here's an interview he did with "Blessed to Play" with Ron Meyeer
2) Zack Martin of the Dallas Cowboys.  Here is a write up in the Texas Catholic on Zack.
3 Alejandro Villanueva of the Steelers.  He is their Offensive Tackle.  You can read more on Alejandro here
Tight End:
1) Greg Olsen of the Carolina Panthers.  Mr Reliable is Olsen.  Sadly he has hurt his foot the last two seasons and he may or may not give it another run in 2019.  He is excellent on and off the field.  He, Luke, and Ryan go to St Matthew's in Charlotte.
2) Luke Wilson of the Detroit Lions. His patron saint is St Luke, his confirmation saint is St Sebastian (he wears a medal of his) & a medal of St Michael.  Here is a write up on more from Luke.
Defense
Linebackers:
1) Luuuuuuuuuuuuuuuuuuuuuuuuuuuuuuuuuuuuuuuuuuuuuuuuuuuuuuuuuuuuke Kuechly.  Charlotte's favorite adopted son. Here are a few links on him here and his interview with "Blessed to Play"
2) Paul Posluszny of the Jacksonville Jaguars.  A great write up on Paul is found here
Cornerbacks:
1) Prince Amukamara of the NY Giants.  A solid write up here on Prince
Free Safety:
1) Harrison Smith of the Minnesota Vikings.
Special Teams
Kickers:
1) Harrison Butker of the KC Chiefs.  My vote is he is the SF MVP, bc he is a fan of the youtube channel so I am biased.  He was originally drafted by the Carolina Panthers and they kept Gano over him (I'm slightly bitter about that haha).  Here is a write up on Harrison
2) Justin Tucker of the Baltimore Ravens.  He signs himself before every kick.  Here is a write up on Justin here
3) Greg "the Leg" Zuerlein of the Rams.  Here is his "Blessed to Play" interview
Well there you have it.  If you have any other recommendations or if I left anyone out, feel free to put them in the comment sections below.