The Holy Infant of Atocha
The devotion to the Santo Niño de Atocha originated in Spain; it is said to be related to Our Lady of Atocha, who is mentioned in the "Cantigas" of King Alphonse the Wise in the 13th Century. In 711 the Moors held sway over vast regions of Spain and battles between Catholics and Moors were common. The latter invaded the town of Atocha, near Madrid, and were victorious keeping many Catholics captive and even prevented the villagers from bringing food and water to the captives, except children under twelve, who were permitted to assist the prisoners. For those who had no family members nearby, this would have been a certain death sentence. Fearing for the lives of the prisoners, their families prayed incessantly to God for relief and implored the Mother of God under the title, Our Lady of Atocha. One day a child around the age of twelve appeared, dressed as a pilgrim of that period, carrying a basket of food and a gourd of water. The Moors allowed Him to bring food and water every day. All the time the captives were fed, the basket and gourd remained full. The child was not known to anyone by name, but all the people realized that He was the Child Jesus, disguised as a pilgrim, who had come to their rescue. When the women heard the stories from the children about the Santo Niño, they rushed to the chapel to thank Our Lady for sending her Son. Upon entering the chapel, they noticed that the shoes of the Infant in the statue of Our Lady of Atocha were dusty and worn out. The women in the village replaced His shoes, but, time and time again found them dusty and worn out.
In artwork, the Holy Child often wears a brimmed hat with a plume and a cloak or cape ornate with the St. James shell; during the Crusades, scallop shells were the symbol of holy pilgrimages and one European variation is still referred to as "the pilgrim" or "St. James shell." In His left hand, He carries a pilgrim's staff fastened to the gourd, a pair of shackles, and a few spikes of wheat. In His right hand, he holds a basket which generally contains bread or flowers or sometimes it appears empty even though it isn't. Then the flowers are depicted as outside of the basket, adorning the image to one side and they are almost always roses.
El Niño de Atocha either wears sandals or is barefoot and tradition says that He roams the hills and valleys, particularly at night, bringing aid and comfort to the needy, and thereby wearing out His shoes. Thus, some images of Him have His feet not showing at all, with the image stopping at His hemline. He is usually shown seated. The original statue of the Holy Child of Atocha is imported from Spain, and now resides in the little town of Fresnillo, Zacatecas, Mexico. The Santo Niño de Atocha is the patron of those unjustly imprisoned, travelers and people in danger:
People traveling in those days also found themselves in great danger. Often, when visiting relatives far away, they were assaulted and killed on the roads. Many of the travelers were Catholic and innkeepers had been afraid to provide them with lodging for fear of the Moors' cruelty. As a result, many travelers had to sleep in the open forests or near the main roads, thus making them even more vulnerable to attacks. Before long, accounts of a Boy of twelve years of age, dressed as a Pilgrim and bringing them food and drink started to emerge. He would especially appear to them when they found themselves in dangerous situations, often pointing to them the safe route to take to avoid any danger. Many times, He would accompany them on their journey. The descriptions of Him were always the same: He had a pilgrim's dress, a hat with a plume and a cape about His Shoulders. In His left Hand, He held a pilgrim's staff with a gourd of water attached.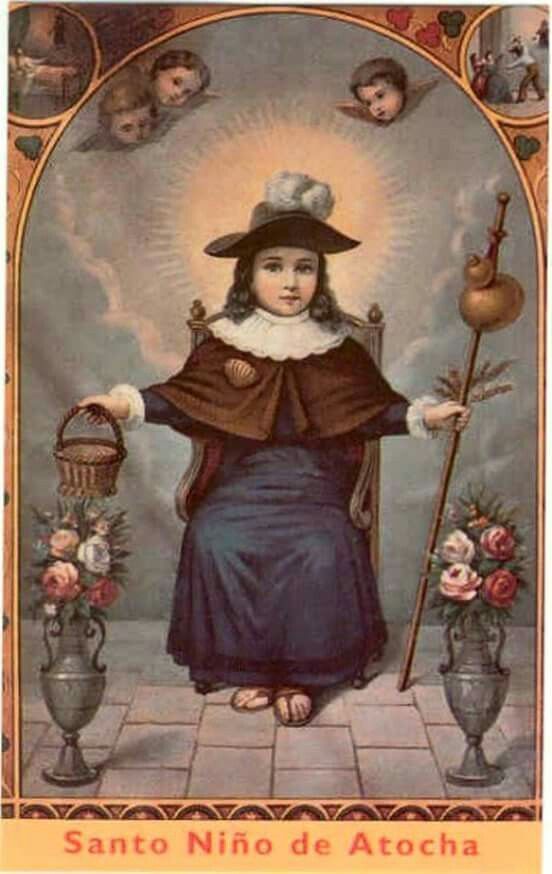 Because of these miraculous events, the child received the Name of the Holy Infant of Our Lady of Atocha. Miracles abounded through the centuries, even after Spain was liberated from the Moors in the year 1492. Devotion to the Child originally focused on receiving aid for travelers or for people in prison, but, after witnessing many miracles for other intentions, the devotion spread throughout Spain and devotees were turning to Him in all of their urgent needs. How the Santo Niño arrived in Mexico is just so Catholic:

The Spanish explorers and Franciscans evangelized the new world. Many statues of Jesus and Mary were brought over from Spain; in 1554, that the statues of the Santo Niño was brought over from Atocha, Spain, to the village of Fresnillo in Zacatecas, Mexico. Immediately, many villagers claimed seeing the little pilgrim and reported miracles attributed to the Santo Niño of Atocha. The statue that came from Spain had the Holy Child sitting on the lap of His Mother. Once, the statue separated itself from His Mother. No one knows exactly how or why this happened. The people had a throne built for the Santo Niño, from where He reigns today. He is also to be found in His Own Chapel in the Santuario de Plateros.
There are mornings when the Sisters that care for the Shrine find the Infant's shoes all dusty, from being out all night caring for pilgrims. Many people who have seen Him during the night confirm that His basket is always full of food and His gourd is always full of water, yet the statue itself has an empty basket and gourd. At times, He is referred to as the "Night Walking Infant of Atocha". Many miracles are attributed to His Presence and the Shrine is filled with acknowledgments of these.
The Shrine dedicated to the Santo Niño de Atocha is run by the Poor Clares and is located in Mexico at:
Monasterio del Santo Niño de Atocha Plateros
Apartado Postal 125
99000 Fresnillo, Zac. —- Mexico
CCP655001
Holy Infant of Atocha Prayer
Thou art the powerful Saviour of all people,
protector of the invalid and
almighty doctor of the infirm.
Holy Infant, we honor Thee and entreat Thee.
[Here say three Our Fathers, Hail Marys, and Glory Bes to God.]
To remember this day I pray that Thou wilt answer my requests.
Holy Infant of Atocha I ask Thee with all my heart to assist me.
Please be with me in thought and spirit when I find peace,
and that Thou wilt be with me in the Heavens of Bethlehem.
Amen.
PRAYER FOR NINE DAYS
IN HONOR OF THE
"SANTO NINO DE ATOCHA"
(SACRED CHILD OF ATOCHA)VENERATED IN THE SANCTUARY OF PLATEROS, FRESNILLO, ZACATECAS, MEXICO
Observation and method to do this nine day prayer.
The benefits that the Sacred Child of Atocha (Santo Nino de Atoche) bestows on us daily are incomparable, and we should trust him with our heart and instant that we shall call upon thus, it will be very useful that the first and last days of this prayer, we are in the necessary disposition to attain what we request, and the rest of the days we should make some charitable acts most of all with the poor children with a lot of necessity, also for their poor parents: and also saying prayers and doing sacrifices in memory of the poor souls in Purgatory, or visiting the sick, so in this manner we can have the sacred Child of Atocha intercede on our behalf in our petitions.
This nine day prayer can be performed at any such time as we want, as we will always need to revert to the sacred Child when we find ourselves with a lot of work or with a lot of problems, as with him on our side, we will lack nothing and in that way we will achieve what in our hearts we are requesting.
ACT OF CONTRITION
Oh beautiful Child of Atocha! Nino de Atocha! Fathomless abyss of love, Child of my heart, inexhaustible fountain of wonders, wonder of wealth, river of delight, and father of all mercy. Oh blessed Child of Atocha! At your sovereign feet we humbly prostrate ourselves, this ingrate sinners, who want to beg, with tears in our eyes, for forgiveness for our multiple faults. I will place as my intermediary your holy Mother, the Virgin Mary, and with the trust placed in such a powerful intermediary, I beg on you. Before your holiness my poor soul prays, ashamed to be before your divine presence, and with all my heart I want to tell you that I am very sorry to have offended you with my numerous sins. To you, most powerful Child of Atocha, because you are who you are, God of God, I am asking from you to give me the contrition you gave Dimas when he was nailed to the cross; that you can also give me the tears you gave saint Peter the night he cowardly denied you; the sweet expressions of saint Augustie to serve you with all my heart. No, my Child, do not cut the thread of my life now. Give me more time to do sacrifices and to cry for my sins as you gave the opportunity to Mary Magdalene to cry for her sins. I beg you, at the same time, the grace to be pleasing to your divine eyes
Oh merciful Child! Forgive me for having offended you. I propose not to sin again. I am asking this grace by the intercession of your sweet mother, Saint Mary of Atocha (Santa Maria de Atocha).
I will wait for you and I will trust you, and because of you, I expect to reach my salvation and what I am requesting in this nine day prayer. I firmly believe that I will not be defraud of my petition as I have much faith that my request will be positively resolved as same is done with faith. I hope you can convert all of my sorrows, my works, my necessities, my griefs, in ways of purifying my unfaithful life. Give happiness to my problems, liberty to my prison, as you are my saviour. I am asking you to help me, to assist me, and to be with me at the time of my death, and to allow me to participate in your holy kingdom, where you live and reign with the father and the holy spirit for life everlasting. Amen.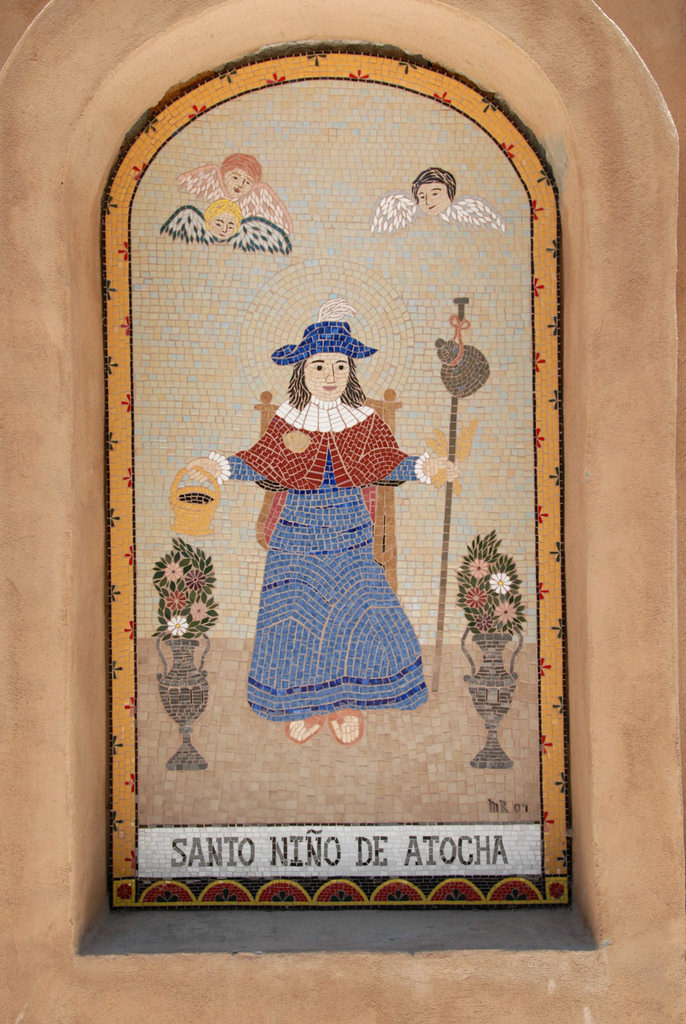 PRAYER FOR EVERYDAY
Immaculate Mother of Good, Holy Mary of Atocha, pleasant sanctuary of the Holy Spirit, door to the Kingdom of Heaven, divine awakening, which after God all creatures live for, look at me with your beautiful eyes, so that my blind and poor soul is illuminated and your grace can be returned to me. Pray for me to your son, the Holy Child, and ask him to favor me with this my petition in this day. Beg of him to illuminate me so that I can recognize how wrong I have been, away from your divine grace, and that I will not stumble with the sins of this world. Find me the necessary force to avoid falling in the works of the devil and keep from me the appetites of the flesh. Yes, loving Mother, I am right in believing that none of the ones that have been before you have been ignored. With that certainty, today I am prostrated to beg your intercession with your Holy Son so that he can grant me the solution to my problems, his grace and mercy, and success in my spiritual and material necessities.. That I am begging from your son, the Holy Child of Atocha, your loved son. I am asking with all my heart, that if my petition is for my benefit and with your approval, please grant me said request, and if same is not of my convenience, to grant me the total conformity with that decision also, so that I can serve you for all my life, and so that I learn to carry all of your works to obtain a holy death. Amen.
FIRST DAY
First Jaculatory
Child of Atocha
Prodidious Child
Divine Child
Loving Child
Child of Atocha
Loving Child
At your feet I ask from you
All powerful!
That all my troubles
Are turned into joy
As you are my Father
My salvation and repose
FIRST MIRACLE
In the month of February of the year 1829 Maxima Esparza was put in jail in the village of Encarnacion, in the days when a celebration is held in honor of saint Mary of the Candelaria, and she not having someone who spoke on her behalf, stayed until August of the same year in jail; and later having been deterred as a sanction, she walked towards the Real of Catorce, where she was again put through the same predicament, when she stayed in jail for three months, and she was sanctioned in the same manner as before, when she started on her way to Saltillo, where, because of her bad manners, she again fell for the third time, in prison which she spent from April until September. From there she was released, under the same sanction, and at this point she decided to head towards Durango, where she was put again in jail, there she stayed for one year: after looking and not finding anybody that would help her and not finding any way out, prayed with faith in her heart to the sacred child of Atocha, who kindly listened to her and took her out of that captivity, as in all the time that she had lived there , there was nobody that would defend her until the Holy Child of Atocha, dressed as a young prince, visited her in that prison, and gave her some bread, in the name of his mother, saying to her that same afternoon she would be taken in front of the judge who would release her from custody, and this was very surprising to her and to the other many inmates as well as the staff and when the time that the child told her she would be freed came, she was released under the condition that she would travel towards her house, and she followed this advice by taking a straight towards Fresnillo, and when she was close to a lagoon, night came upon her and she lost her spiritual guide who was taking her home, but since she had been told that the Child's mother was Saint Mary of Atocha, and his name was Manuel de Atocha, she kept on walking all night, and when the sun rose she saw herself reaching Fresnillo, and since all persons there knew about the miracles the child had already performed on other persons, they took her to the priest's house, and she told the priest what had happened since her last time in prison, and the priest after checking her story out, took her directly to the sanctuary and when the woman, Maxima, saw the beautiful shrine, she knelt and cried to thank him for this prodigy and to express her blind faith for the miracle she had experienced, and she told all the faithful there the wonders the holy child had done for her in the Plateros Sanctuary, and in that way all persons could benefit from this grace just by praying to the Holy Child of Atocha.
FIRST PRAYER
Graceful Child of Atocha, sovereign arch of the supreme sanctuary, I salute and praise you, in this first day and I am offering these three "Our Fathers", and these three "Hail Marys", with a "Glory to the Father" in memory of the first instance or moment that Saint Mary, your Mother, received the announcement of Saint Gabriel Archangel, and it was such a joy that he received that he said, "God save you Mary, full of grace, the Lord is with you." You are the saviour of all those persons with problems, in prison, and those who are destitute. I beg from you, oh loving Child of Atocha, that you grant me what in this nine-day prayer I ask you and that you may hear my prayer and request. I am putting as my intermediaries the holy angels, whom you have put as the guardian of men. I hope, by your grace, that I can leave with counsel and obtain your everlasting friendship, and achieve a happy death, and to be with you in the glory everlasting.
PRAYER FOR EVERYDAY
(This is done after the petition.)
After the petition, a prayer should be said with the rosary in honor of the sacred Mary of Atocha.
FINAL PRAYER FOR EVERYDAY
Powerful Child of Atocha, God made man for our salvation, my goodness, with unprecedented beauty, enchantment of the heart, my only owner and happiness of all creatures, who if not you, divine Manuel, is going to be the fountain of benefits, father of mercy, and only true God, forgiveness of our sins, and who I can always count on with my problems and needs.
May the angels adore you as well as all creatures. May the inhabitants of the heavens and the earth, the angels, the celestial spirits, the saints in heaven, everything on earth, the minerals, the plants, the animals, and all men adore you. Every living matter lives in you. Perpetual are my praises for you.
Oh sacred Child of Atocha, you know my problems, my sorrows and my necessities, as nothing can be hidden from you. To you, powerful child, I present my petition, my necessities, and my sorrows, trusting you will accept them, and that you will bestow upon me their solutions. You can give me the happiness I need in my life. You are the one that converts my anger in hopefulness, you are the mediator between your Father and all men, you bless us every day, each hour, and every instance with such goodness, such benefits to which we are not capable to correspond as we should.
And now I find myself before your presence, imploring your goodness and forgiveness, ad you are the author of our lives, and to whom we owe all of our being. You are the one who instituted the sacred sacrament of penitence to purify our souls for the forgiveness of our sins and to give back to us the friendship of your Father.
I am offering these prayers so that you in turn present them to our holy Father. I am asking for the souls in purgatory, and so that I can obtain the favor of the granting of the petition, so that we may have the counsel that you, divine holy Child of Atocha, gives to all of your faithful. So it may be, by your pity, to be able to enjoy your company in heaven, your Father and the Holy Spirit, with whom you live and reign forever and ever. Amen.
SECOND DAY
Second Jaculatory
Holy Child of Atocha
Son of Mary
Bright Light
Our guide and counsel
Accept my prayer
In this day
As you can do everything
Oh holy Majesty
Enchantment of the world
Happiness of the world.
SECOND MIRACLE
In the year 1834, in the month of May, 8th day, it happened to Don Jose Maria Delgado, cashier of a store in the city of Fresnillo, that when he was attending to the business of the store, at night time and when it was time to close the store, some bad men, with weapons, came into the store, pretending they were going to buy some drinks, common to that type of establishment, and seeing he was alone, and since at the time they were drunk, they started trying to bad mouth him with offensive words. Suddenly one of them stabbed him, cutting him from side to side. Since they could not perpetrate the robbery, they left the store, leaving said Don Jose Maria fainting and close to his death. When he found himself totally wounded and close to his death, he prayed with all his heart to the Holy Child of Atocha, who indeed heard him. Within forty eight hours this gentleman felt the miracle of the wonder of the Holy Child of Atocha as he showed his mercy and he was completely healed in a few days. In gratitude for this benefit, his thanks are written in the sanctuary, to attest to this miracle, giving thanks to the Holy Child and to his Merciful Mother Mary, for the miracle they had just given him.
SECOND PRAYER
Beautiful Child of Atocha, powerful Child of clemency, pure and good Child, I salute and praise you in this second day and I am offering theses three "Our Fathers" and these three "Hail Marys" with a "Glory to the Father", praising them with this second jaculatory in remembrance of that second trip which you made with the saints, your loving parents, hiding in that virginal arch, from Mountain Tabor to the city of Naim, where after having suffered so much work and rain from the sky, the cold airs, the problems encountered, the dangerous hills, the lack of life along the way, and when he was tired, this husband of Mary, was still looking for a place to stay which they were denied when they dismissed him with empty words, and he had to finally stay in an empty hall, crying for the hardness of the heart of all those persons. For these moments of anguish, that this couple experienced, I am asking Holy Child of Atocha, to help me attain my petition, through the intercession of the Archangel's choir, as to these divine spirits they have given the task of protecting the important business of your glory, and I hope to obtain the benefit of my petition. Amen. (The petition is made here.)
THIRD DAY
Although you are in chains
In any moment
You will leave them and leave
To practice your miracles.
And he who is suffering
Calls upon you for help
You do help him
With your goodness
And they will thank you
For life everlasting.
THIRD MIRACLE
In the year 1836, on March 1, it happened that Mariano Garcia was working in Barrientos, close to Proano in Fresnillo, and this being the entrance to the mine of Barrientos, it just happened that Mariano sustained an accident while in the mine, and he prayed with all his heart to the Holy Child of Atocha, and he suddenly was able to jump into a cart which was coming his way. Thus he saved himself from a certain death, and when his fellow workers saw him alive they were very surprised by this miracle that saved his life. When he found himself out of all danger, and as a sign of gratitude, he visited the shrine of the Holy Child of Atocha to show the prodigy and to show all people that they can call on the Holy Child of Atocha in case of necessity or danger.
Third Prayer
Sweet Child of Atocha, divine heaven of mercy, I salute you and I worship you in this third day and I offer these three "Our fathers", and these three "Hail Marys" with a "Gloria to the Father", accompanied with the third jaculatory in memory of the third journey, that you made in the body of your mother Mary, from the city of Naim to the hills of Samaria, where after you were grown, those lepers came your way, and I beg you, for that sorrowful trip, in which you saw all those who were in need, and in the name of your parents, who endured all the suffering in the trip, by their poverty, and accompanied by the third choir of angels, that you say yes to my petition, for your sacred mother Mary by which I put as my Intercessor the holy angels, who they in turn care for the health of all men, and that at time of my death the song praising God the true glory, is heard to be with you in glory everlasting. Amen.
FOURTH DAY
Fourth Jaculatory
From the trouble things,
You are my loving Child
You hear all my sins,
Adored Child.
You are my counsel,
You are full of good things,
As he that calls upon you,
Will never be alone,
And you carry your miracles,
Always and with your heart open.
FOURTH MIRACLE
In the year 1836, on July 27, while Jorge Garcia, who had been a miner in the mines of Barreno, was walking, a tragedy fell upon him in the way of a cannon piece, that fell on his left foot and thus he sustained considerable injuries to this foot. When he saw himself in such a predicament, he immediately called three times upon the Holy Child of Atocha, who favored him with his strong power, so that he did not die without the sacrament of the terminally sick, and it happened that he was crying so loud that all other men in the vicinity came to his assistance and they could see that he had not any major injuries except the one to his left foot and another one of the men who had also sustained a similar injury also gave faith to the Holy Child of Atocha, thanking this Sacred Child over and over for the miracles he had just performed, as these miracles are so big that it is hard to imagine the magnitude of said miracles.
FOURTH PRAYER
Gracious Child of Atocha, eminent circle of infinite pity, I salute and worship you in this fourth day, in which I am offering these three "Our Fathers" and these three "Hail Marys" with the "Glory to the Father", in addition to this fourth jaculatory, in memory of that fourth trip you made to the well of Siquen in the body of your loving Mother Mary of Atocha, as a divine Solomon, and when you were close to give birth to that Holy Child, you washed his clothes while on your knees, to keep and safeguard such a divine treasure of love and kindness.
I beg you, Holy Child of Atocha, that through my sorrows, I can achieve from you my petition. I believe that I can achieve such immense glory through the kisses of your mother Mary, to that Holy Child who she kissed, with loving words and actions, and while the loving Mother was kissing such a beautiful Child, the Child's eyes were full of goodness for his Mother and for all mankind. In this way I hope to achieve the benefit of my petition and to calm my conflicts, and in the end I would want a happy death in the presence of God forever and ever. Amen. (The petition is done at this moment.)
FIFTH DAY
FIFTH JACULATORY
I trust you,
With faith and devotion,
And I am hereby begging,
That your protection,
Is with me forever,
By the intersession,
Of your loving Mother,
And in this instance,
I can achieve my petition.
FIFTH MIRACLE
In the year 1837, on November 6, while Maria Eleuteria Garcia was in her home, a man came upon her and stabbed her in the face and arms, and Maria Catalina Rivera, who was
Also with her there, in seeing so much pain, prayed to the Holy Child of Atocha, who in his all goodness saved her life, to demonstrate the singular miracle that the divine Child bestowed upon them, to thank and to appreciate this miracle, they went to the holy shrine of Atocha to pray in thankfulness for such a miracle, the same one that had saved her life.
After she was feeling in perfect health, she did not for one moment forget the miracle which not only saved her life but also permitted her to know and love the Holy Child of Atocha and his way to take care of the sick and needy at any time when anybody with faith and conviction would call upon this magnificent and all good Child, the Holy Child of Atocha.
FIFTH DAY PRAYER
Wonderful Child of Atocha, I salute and praise you on this fifth day and I am hereby offering you these three "Our Fathers" and these three "Hail Marys", with a "Glory to the Father". This is all in memory of the trip your beloved parents made from the Siquen well to that place called Necmas, where to sleep they had to resort to a sheep resting place, although the animals there were very happy to have them as their guests, not so the fellow humans who in all the way denied a place to stay to that holy matrimony. For the everlasting love that you profess to your holy Mother, Saint Mary of Atocha, I am asking that you grant me my petition, and for this great favor I am imploring that my prayer be listened to, as you always do with the needy souls, as you have immense power. I trust to be listened to and that you always come in our defense and please grant us everlasting peace so that I can now and always proclaim your eternal glory, now and at the time of our death. Amen.
SIXTH DAY
SIXTH JACULATORY
Divine Doctor,
You are by virtue,
With exactness,
You heal from all pain,
You give health,
And he gives testimony,
And he grants with goodness,
My petition.
SIXTH MIRACLE
In the month of November, 1838, Albino Ibarra was gravely ill, with pains in his stomach, and he had been feeling this way for a long time, and he had not found any cure for this illness, so he decided to call upon the Holy Child of Atocha, asking from him, to please heal him, with a lot of faith in his heart, to which, the Holy Child, seeing that what he was asking was indeed very true, and while the doctors could not find what was exactly wrong with him, the Holy Child of Atocha granted his request and healed him completely. By this miracle of his holy majesty, he was forever grateful and visited the shrine of the Holy Child of Atocha, where his story is told, and this shrine and this miracle has been seen and heard by a large group of faithful persons.
SIXTH DAY PRAYER
Holy Child of Atocha, you that are so happy with your loving Mother, I salute and praise you in this sixth day and I am hereby offering you these three "Our Fathers" with these three "Hail Marys" with a "Glory be to the Father", in memory of your trip when, at the time when your son was twelve years old you lost him, and your heart and soul were very sad, and to find him you had to encounter cold temperatures and high mountains, I am hereby requesting you grant me this petition which I ask you with faith, until we meet again in heaven at the end of my existence. (The petition is made here).
SEVENTH DAY
SEVENTH JACULATORY
To the sick and imprisoned,
You lovely Child,
Protect and assist,
With your great power,
And you do not abandon,
Any one with pain,
You give the imprisoned,
Liberty and return,
And also to the sick,
Who, if not you, could do this?
SEVENTH MIRACLE
In the month of May, 1839, it happened that Jose Maria Diaz killed another man by stabbing him, and he was arrested by the authorities in Fresnillo, who, after investigating this incident, found probable cause for charging Diaz with murder, and without any appeal,, the court sentenced him to ten years in prison. When they informed Diaz of his sentence, in his heart he prayed to the Holy Child of Atocha, with a lot of faith in that he knew that the Holy Child of Atocha would listen to his prayers, and that through him he would obtain his liberty, and that he would be his lawyer, his district attorney and his judge, and that the Holy Child would release him from prison. This indeed occurred as he spent but one year and three months in prison, and when he last thought he was going to be freed, he was freed by the authorities. He then visited the Holy Shrine of Atocha to thank personally the Child for what he had done for him, as the Holy Child never abandons us, in our works, or in prison.
SEVENTH DAY PRAYER
Formidable Child of Atocha, incomparable in your wonders, beautiful Child, I salute and praise you, and I hereby offer you these three "Our Fathers" with these three "Hail Marys" and a "Glory to the Father". In union with this jaculatory, in memory of this seventh journey that you made to the sacred city of Jerusalem, inside the body of your loving Mother, which served as your house and palace, from where you worked the Mystery of the redemption, and where you found all the problems that happened to your beloved parents, as in one of the houses you used to live in, you were going to be arrested, and in one of its plazas you were to be tormented with five thousand lashes, and where you cried in seeing the ignorance of men. For the tears that your Mother shed when she had to see you being crucified on Mount Calvary, as it was there that she knew you were going to die, I beg you, Holy Child of Atocha, to grant me my petition, and put an end to my needs. I am humbly and respectfully requesting that you will give me the counsel I am hereby requesting in response to my petition and after all this, to please allow me to have a happy and serene death in your company in glory everlasting. Amen. (The petition is hereby requested.)
EIGHTH DAY
EIGHTH JACULATORY
Different miracles,
Loving Child,
You do daily,
And I am requesting,
That you please grant me,
What I am asking for,
With all my wishes,
To obtain said miracle,
That I am hereby requesting from you.
EIGHTH MIRACLE
In the year 1840, in the month of May, Juliana Codina found herself gravely ill with a pain in her ribs. As she could not find any cure for this grave illness, she prayed to the Holy Child of Atocha, who immediately sent her necessary relief and within a few days she was in good health again, saving her from a sure death, and in reward for this miracle, she went to the Holy Shrine of Plateros, stating what had occurred. She and her husband,
Don Grancisco Orozco, are giving daily thanks to the Holly Child of Atocha and also to his Mother. Anyone who has a problem or a sadness can pray to the Holy Child of Atocha, and all the problems shall be solved so that the person can lead a new and happy life in the company of the Holy Child. He is our celestial doctor who always watches over us to protect us and to help us in our problems and despairs. He is blessing us every minute, and every time we shall ask for his help he will indeed help us as can be testified to from all the examples people have seen and heard..
EIGHTH DAY PRAYER
All-knowing Child of Atocha, protector of all men, custodial of the needy, divine doctor to many and all diseases, powerful Child, I salute and I praise you, and I am hereby offering you these three "Our Fathers" and these three "Hail Marys" with this "Glory be to the Father" in memory of the eighth trip you made with your glorious Mother Mary to Bethlehem, where your Father, Joseph, tried to find a place to sleep to no avail as everyone denied entrance to their homes, closing their doors in their faces. Seeing them suffer and cry, these people did not help them, and even called them misfits, as they were humble and poor. Mary was pregnant, and they did not help them and the Child she was carrying. For all that suffering and penitence I am requesting that you grant me the petition I am about to ask. In your divine knowledge, for you I wait, oh Holy Child of Atocha, as I am sure that you will grant me my important petition, and I will lead an exemplary life, and at the time of my death you will be with me in glory everlasting. Amen. (The petition is made here.)
NINTH DAY
LAST JACULATORY
Oh, Divine Child of Atocha,
Your majesty,
Solve my problem,
Holy Child.
NINTH MIRACLE
In the month of March 1841, Calixto Aguirre found himself with a grave illness, in the city of Guanajuato. It was such an incurable disease that the pains and sufferings were incomparable. He went to see Dr. Vicente Lopez, who after seeing such a rare disease, told him to take some prescribed medicines which they applied at that moment. Since his pain was growing worse, Calixto Aguirre decided to call upon the Holy Child of Atocha, promising him that if he were to cure him of his illness, he would say a nine day prayer in the honor of the Holy Child of Atocha, and he would also visit his sanctuary to show all the people of his mercy in granting petitions. After the doctor had applied the medicine, his condition grew worse, up to the time when he thought that he was going to die for sure as he started bleeding profusely. When he found himself in this predicament, he again prayed to the Holy Child of Atocha who in the next hours completely healed him. To make good his promise, he prayed to the Holy Child the nine day prayer and also visited the Child's shrine to thank him as he has cured and helped not only him but many other faithful persons who have come to him for help
NINTH DAY PRAYER
Sovereign Child of Atocha, I have put my complete faith in your deeds. Oh Holy Child I salute and praise you in this last day of your nine day prayer, and I am hereby offering you these three "Our Fathers" and these three "Hail Marys" and this "Glory be to the Lord" with this last jaculatory, in memory of that last journey that you did in the body of your loving Mother Mary, from Bethlehem to the place where you were born. Everyone had their eyes on you and heaven, waiting for the miracle of your birth, and where the divine Mesias came into existence, having the complete adoration of all the angels. Even the animals adored and worshipped you. For the immense joy of your Mother, the Virgin Mary, had when you were born, in which her virginity remained intact, I beg you to please grant me this important petition, in the name of your loving Mother Mary, and for all her love and the merits of the Sacred Shrine of Atocha, so that I can obtain a happy death in your company everlasting, per saecula seculorum. Amen.