"I have been condemned for granting hospitality to a Catholic priest; yet I am so far from repenting that I would like to have hosted a thousand of them, instead of just one."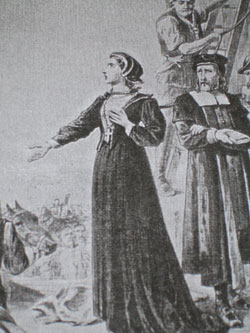 On Candlemas, February 2, 1601, Jesuit priest, Father Francis Page, was celebrating Mass for the Feast of the Presentation of Our Lord in the Temple at the safe house in London run by Anne Line.
Father John Gerard, SJ, author of the memoir Autobiography of a Hunted Priest had asked the widowed Catholic convert to be the housekeeper for the Catholic priests staying in London. On that day, the safe house proved to be none too safe, as pursuivants entered the house as Mass was in progress. Father Page was able to discard his vestments and mingle with the congregation, but Anne Line was not able to escape.
Since she was the keeper of the house, and the pursuivants had found an altar, vestments, and all the altar vessels for the celebration of Catholic Mass, Anne Line was arrested.
She was held and tried and executed for harboring and assisting priests on February 27, 1601. One of the priests executed that day after her at Tyburn, Blessed Roger Filcock, had once been a guest in the safe house. Father Francis Page was eventually captured and executed on April 20, 1602. St. Anne Line is one of the Forty Martyrs of England and Wales canonized by Pope Paul VI in 1970–she shares a separate feast with St. Margaret Clitherow and St. Margaret Ward. Blessed Roger Filcock (and his companion on the way to Tyburn, Blessed Mark Barkworth) were beatified by Blessed John Paul II in 1987 among the 85 Martyrs of England and Wales, and Blessed Francis Page was beatified by Pope Pius XI in 1929, among 136 martyrs of England and Wales.
Martyr
† London, England, 27 February 1601
Canonized on October 25, 1970 by Pope Paul VI.
The second daughter of William (or John) Heigham and Anna Alien, Anna was born in Dunmow, Essex. Converted to Catholicism together with her brother William, she was with this disinherited and driven out of the house by her father, a proud Calvinist, who had unnecessarily also tried to make her apostate. Shortly thereafter Anne married Ruggero Line, also a converted Catholic, who had suffered the same fate for the faith as his wife. But she soon remained alone and without resources because her husband, arrested in 1586, while listening to the S. Mass, and sentenced to life imprisonment, then changed into perpetual exile, went to settle in Flanders, where he still lived eight years poorly, perceiving a small pension granted to him by the King of Spain and of which he sent part to his wife in London. Widowed in 1594 and very run down in health, Anna found herself more afflicted than ever by need, having to trust only divine Providence for her livelihood. When in 1595 the Jesuit John Gerard established in London a house of shelter for priests who came new to the city, or who already exercised the ministry there, Anna was called to govern and administer it, a task that she carried out day by day with the affection of a mother and the devotion of a handmaid, until she fell on suspicion of the persecutors, especially after gerard's escape from the tower prisons in 1597. Forced to change residence, she went to live in a very secluded house, where nevertheless, for the delination of a neighbor, she was captured on 2 Febb. 1601 by a handful of gunmen and locked up in Newgate prisons. Dragged shortly afterwards to court, where it was necessary to lead her to a chair, so serious were her health conditions, she was tried by Judge Popham, on charges of giving refuge and assistance to missionary priests. Found guilty of the offence by a complacent jury, she was sentenced to death, and executed at Tyburn on 27 Feb. 1601, together with the Jesuit Roger Filcock, his confessor and friend, and the Benedictine Marco Barkworth. Before turning his head to the master, he declared aloud to the surrounding crowd: "I have been condemned for granting hospitality to a Catholic priest; yet I am so far from repenting that I would like to have hosted a thousand of them, instead of just one." Raised by Pius XI to the honor of the altars, on 15 Dec. 1929 Blessed Anna is commemorated on February 27.