Do we ever wonder what happened to some of the characters in scripture?  For example, the woman at the well, the Samaritan woman, she is a martyr for the church. She is St. Photina, and she is in the Roman Martyology on the 20th of March (here) –
The same day, the Saints Photina, a Samaritan, and her sons Joseph and Victor; also, Sebastian, military officer, Anatolius, and Photius; Photides, Parasceves and Cyriaca, sisters, who were all martyred for confessing Christ
On the 23rd Sunday after Pentecost is the gospel of the healing of Jarius' daugther and before Christ gets to her bedside, His garment is touched by a woman who has a blood disorder of many years.
And behold a woman who was troubled with an issue of blood twelve years, came behind him, and touched the hem of his garment. For she said within herself: If I shall touch only his garment, I shall be healed. But Jesus turning and seeing her, said: Be of good heart, daughter, thy faith hath made thee whole. And the woman was made whole from that hour.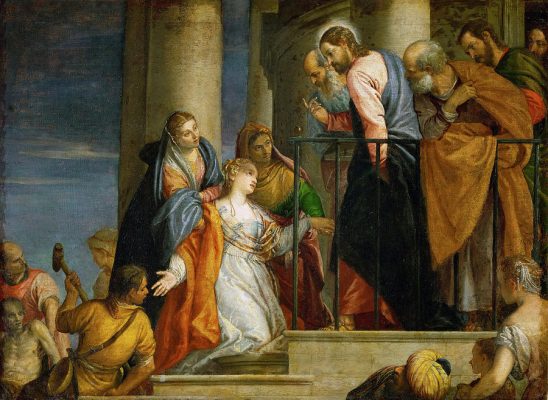 Do we ever wonder who she was and what happened to her? One priest mentioned don't you think Jarius & his daughter might have converted and followed Christ after this event? What about this woman? Think she just went back to her normal life? Surely, she had to have a change in something, right?
The great church historian Eusebius of Caesarea, in his Ecclesiastical History 7.18 has this penned:
This, says Eusebius, was Veronica, a woman of wealth and repute, who dwelt in Casarea Philippi, at the northernmost extremity of the Holy Land, hard by the main source of the river Jordan, in a lonely valley at the foot of Hermon.

(1.) Ἀλλ' ἐπειδὴ τῆσδε τῆς πόλεως εἰς μνήμην ἐλήλυθα, οὐκ ἄξιον ἡγοῦμαι παρελθεῖν διήγησιν καὶ τοῖς μεθ' ἡμᾶς μνημονεύεσθαι ἀξίαν. τὴν γὰρ αἱμορροοῦσαν, ἣν ἐκ τῶν ἱερῶν εὐαγγελίων πρὸς τοῦ σωτῆρος ἡμῶν τοῦ πάθους ἀπαλλαγὴν εὕρασθαι μεμαθήκαμεν, ἐνθένδε ἔλεγον ὁρμᾶσθαι τόν τε οἶκον αὐτῆς ἐπὶ τῆς πόλεως δείκνυσθαι καὶ τῆς ὑπὸ τοῦ σωτῆρος εἰς αὐτὴν εὐεργεσίας θαυμαστὰ τρόπαια παραμένειν. (2.) ἑστάναι γὰρ ἐφ' ὑψηλοῦ λίθου πρὸς μὲν ταῖς πύλαις τοῦ αὐτῆς οἴκου γυναικὸς ἐκτύπωμα χάλκεον, ἐπὶ γόνυ κεκλιμένον καὶ τεταμέναις ἐπὶ τὸ πρόσθεν ταῖς χερσὶν ἱκετευούσῃ ἐοικός, τούτου δὲ ἄντικρυς ἄλλο τῆς αὐτῆς ὕλης, ἀνδρὸς ὄρθιον σχῆμα, διπλοΐδα κοσμίως περιβεβλημένον καὶ τὴν χεῖρα τῇ γυναικὶ προτεῖνον, οὗ παρὰ τοῖς ποσὶν ἐπὶ τῆς στήλης αὐτῆς ξένον τι βοτάνης εἶδος φύειν, ὃ μέχρι τοῦ κρασπέδου τῆς τοῦ χαλκοῦ διπλοΐδος ἀνιόν, ἀλεξιφάρμακόν τι παντοίων νοσημάτων τυγχάνειν. (3.) τοῦτον τὸν ἀνδριάντα εἰκόνα τοῦ Ἰησοῦ φέρειν ἔλεγον, ἔμενεν δὲ καὶ εἰς ἡμᾶς, ὡς καὶ ὄψει παραλαβεῖν ἐπιδημήσαντας αὐτοὺς τῇ πόλει. (4.) καὶ θαυμαστὸν οὐδὲν τοὺς πάλαι ἐξ ἐθνῶν εὐεργετηθέντας πρὸς τοῦ σωτῆρος ἡμῶν ταῦτα πεποιηκέναι, ὅτε καὶ τῶν ἀποστόλων αὐτοῦ τὰς εἰκόνας Παύλου καὶ Πέτρου καὶ αὐτοῦ δὴ τοῦ Χριστοῦ διὰ χρωμάτων ἐν γραφαῖς σῳζομένας ἱστορήσαμεν, ὡς εἰκός, τῶν παλαιῶν ἀπαραφυλάκτως οἷα σωτῆρας ἐθνικῇ συνηθείᾳ παρ' ἑαυτοῖς τοῦτον τιμᾶν εἰωθότων τὸν τρόπον.

'(1.) But since I mentioned this city [Caesarea Philippi], I do not think it proper to omit an account which is worthy of record also for posterity. For they say that the woman with an issue of blood (who, as we learn from the holy Gospels, received from our Saviour deliverance from her affliction) came from this place, and that her house is shown in the city, and that remarkable memorials of the favour of the Saviour to her remain there. (2.) There stands indeed upon a high stone by the gates of her house a brazen image of a woman kneeling and stretching forth her hands, like a suppliant. Opposite this is another upright image of a man, made of the same material, clothed decently in a double cloak, and extending his hand toward the woman. At his feet, on the monument itself, some strange kind of herb grows, which climbs up to the hem of the brazen cloak, and happens to be a remedy for all kinds of diseases. (3.) They said that this statue bore the likeness of Jesus, and it survived down to our days, so that we saw it with our own eyes when we visited that city. (4.) And it is no wonder that those of the Gentiles, who were once benefited by our Saviour, should have made these things, since we have also seen images of his Apostles Paul and Peter, and of Christ himself, preserved in colour-painted drawings. For, as was normal, the ancients were accustomed to honour them in this manner indiscriminately as protectors, according to the pagan habit.'
Eusebius goes on to argue the probability that Veronica caused it to be erected, since it was a custom of the Gentiles to erect statues to those who had healed them; and Caesarea Philippi being, not a Jewish, but a Phoenician city, mainly inhabited by Greeks, we have every reason to believe that Veronica herself was a Gentile.