Homily by St. Jerome, Priest



Bk. ii Comm. on Matth. xv

Christ leaveth the Scribes and Pharisees who had spoken falsely against Him, and goeth into the coasts of Tyre and Sidon, that He may heal the Tyrians and Sidonians. But a woman of Canaan cometh to Him out of the land He had left, and crieth to Him to give health to her daughter. Remark that the case of the daughter of this woman of Canaan is the fifteenth case of healing. Have mercy on me, O Lord, Thou Son of David! She knew that He was to be called Son of David because she was come out of His own country, and had left the errors of the Tyrians and Sidonians when she changed her home and her faith.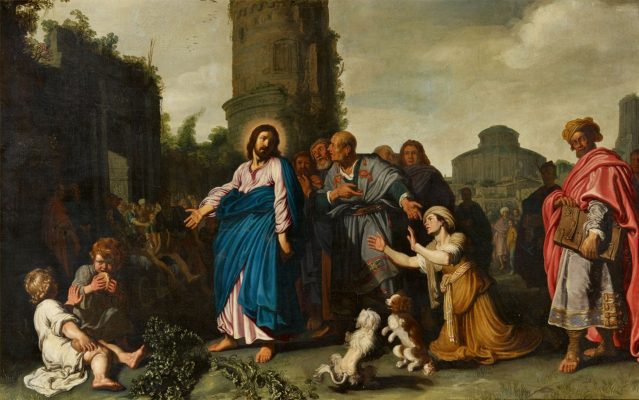 Gospel
Sequentia sancti Evangelii secundum Matthæum.
Sequel of the Holy Gospel according to Matthew.
Cap. xv.
Ch. xv.
In illo tempore: egressus Jesus, secessit in partes Tyri et Sidonis, Et ecce mulier Chananæa a finibus illis egressa clamavit, dicens ei: Miserere mei, Domine, fili David: filia mea male a dæmonio vexatur. Qi non respondit ei verbum. Et accedentes discipuli ejus rogabant eum, dicentes: Dimitte eam, quia clamat post nos. Ipse, autem respondens, ait: Non sum missus nisi ad oves quæ perierunt domus Israël. At illa venit, et adoravit eum, dicens: Domine, adjuva me. Qui respondens, ait: Non est bonum sumere panem filiorum, et mittere canibus. At illa dixit: Etiam, Domine; nam et catelli edunt de micis quæ cadunt de mensa dominorum suorum. Tunc respondens Jesus, ait illi: O mulier, magna est fides tua: fiat tibi sicut vis. Et sanata est filia ejus ex illa hora.
At that time: Jesus went from thence, and departed into the coasts of Tyre and Sidon. And behold a woman of Canaan who came out of those coasts, crying out, said to him: Have mercy on me O Lord, thou Son of David: my daughter is grievously troubled by a devil. Who answered her not a word. And his disciples came and besought him, saying: Send her away, for she crieth after us. And he answering, said: I was not sent but to the sheep that are lost of the house of Israel. But she came, and adored him, saying: Lord, help me. Who answering said: It is not good to take the bread of the children, and to cast it to the dogs. But she said: Yea, Lord; for the whelps also eat of the crumbs that fall from the table of their masters. Then Jesus answering, said to her: O woman, great is thy faith: be it done to thee as thou wilt. And her daughter was cured from that hour.